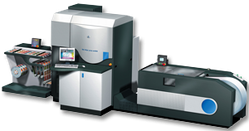 In the era of digital printing techniques it is more important than ever in these days to reach the optimum in efficiency and productivity with digital printing machines. The market for print on demand is steadily increasing, providers will not know today which output device will be used tomorrow to print their jobs. However, customers will rightly expect consistent quality.
The PDF printer module of Print Production Server will take care of a perfect colour reproduction independent on the digital printing device used, let it be Océ, Kodak, Xeikon, HP-Indigo or further manufacturers of digital printing systems. This module enables to calibrate and profile PDF-based digital printing machines.
When it comes to adapting the delivered data to the colour space of the output device, the factor time quite often is a critical and important criterion. But this also is a thing of the past from now on, since the tasks of the integrated colour server are not only the perfect reproduction of all the components included in a file, but will also finalize any document within shortest time through the unique multiprocessings.
Here's a small example
a photo book as PDF media-neutral with RGB data
volume 210 pages with 520 MByte
Conversion from RGB to ISOcoated_V2 and then to the profile of the printing device
complete conversion time 1 minute 20 seconds*
And if it's about printing of several documents to various digital output machines at the same time, the PDF printer module will handle this without problems using the colour server, since calculation of diverse jobs in different queues will be undertaken parallelly.
The only requirement is a powerful hardware with corresponding processors, enough memory and fast fixed disks.
*The example was calculated using a Mac with Intel i7 Quadcore 2.2GHz.